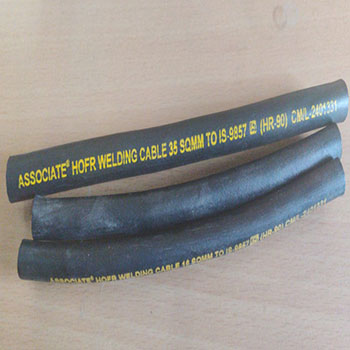 Features:
COPPER WELDING CABLE
ALUMINIUM WELDING CABLE

CURRENT CARRYING CAPACITY PERCENTAGE DUTY CYCLE
DERATING FACTOR FOR VARIATION IN AMBIENT TEMPERATURE
ASSOCIATE HOFR WELDING CABLE
ADVANTAGE OF HOFR CABLE
Technical
High current carrying capacity (App.40 higher)

High conductor working temperature
More durable (life is more then double)
It is heat resisting oil resisting & flame retardant
Low current derating factor at high ambient temperature
Better insulation properties.
Tough
financaial
Economical ( 10% to 30%) for equivalent current carrying capacity.

Economical ( 40% to 60%) for long run ( as life is double)
Inventory is less.
Others
Cable is light hence suitable for welder.

Frequent changes : is not required.
Saving of lugs as changes are less.
And many others.
We are very sorry for those who use commercial cables for whom only the cost of cable irrespective of quality and standard and durability and effective use of cables the number of problems they face is better known to them and some may also do not know that where they are cheated, the common problems faced with this kind of commercial cables available at cheap rates in market are following:-
Less on of wires/cross section area not meeting standard.

Reduced gauge of wires.
Less quantity of copper.
Inferior quality of copper.
Degraded rubber of low quality.
Working not efficient
Cuts and joints in rubber inviting accidents and high losses of leakage current (remember you are paying for it) .
frequent breakdown /changes.
high lead time as no of times in new cable is needed to be replaced .it stops and affect the whole working process.
no faith in cable/user is always annoyed.